Register for an NAFCT Webinar!
Learn something new and earn continuing education credits.
Registration is FREE to all NAFCT Members! Non-member fee is $25.
Registration is required and all registered attendees will receive access to the webinar recording.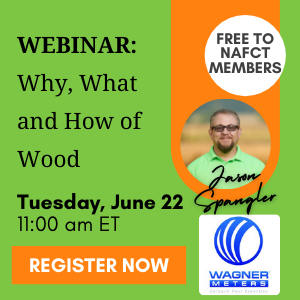 WEBINAR: WHY, WHAT AND HOW OF WOOD
JUNE 22, 2021 | 11:00 AM ET This webinar is presented by Jason Spangler, Sales Manager for Wagner Meters. Get all the knowledge and guidance you need to: Prevent moisture-related problems in wood Choose the right wood moisture meter for your situation Get accurate measurements with a moisture meter And much more! The recording of […]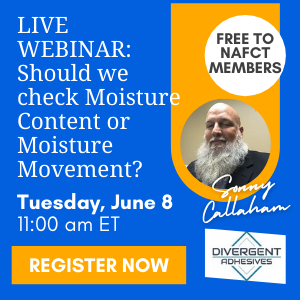 WEBINAR: SHOULD WE CHECK MOISTURE CONTENT OR MOISTURE MOVEMENT?
June 8, 2021 | 11 AM ET Sonny Callaham from Divergent Adhesives will host the live webinar. Bring your questions. The recording of this webinar will be available June 9 for on-demand viewing on NAFCT's education platform. Webinars are FREE to NAFCT members however, registration is required. Non-members are welcome to attend and will be […]