All Tile Carpet Cushions & Supplies
ATCCS-Corporate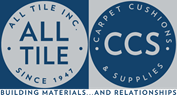 ---
855 N Wood Dale Road, Illinois 60191, United States
Business Description / Bio
All Tile began as an inner-city flooring distributor in 1947 and concentrates on flooring, countertop materials, melamine, and specialty particle boards. Carpet Cushions & Supplies was founded in 1979 and concentrates on products below the floor – carpet pad, underlayment, tack strip, seam tape, flooring adhesives, setting materials, grout, and tools. In 2014 All Tile and CCS joined forces and a new chapter in the company history began.
With a focus on flooring products at All Tile and a focus on installation at CCS, the combined All Tile / CCS entity is the ultimate solution for all flooring projects.
The scale of 23 locations allows for a unique system of integrated logistics that are unmatched in the industry. From architectural specification to on the job installation assistance, All Tile and CCS is the supplier of choice for floorcovering.
Flooring Types
Carpet, Hardwood, Resilient, Stone/ceramic, Subfloors
---
Tuesday
7:00 am - 4:30 pm
Wednesday
7:00 am - 4:30 pm
Thursday
7:00 am - 4:30 pm
Have A Question? Contact Us Today.